One of the central features of the Krason Basement is the kitchenette. A kitchen changes the feel of any space and instantly makes it more functional. We knew that this basement would have movie and game nights and we wanted to be able to serve drinks and snacks.
The goal of the kitchen was to make it feel like it was a similar fixture in the cottage style basement. We did a stone backsplash from CR Stoneworld which matches the stone wall across the room. Finish details like real stone give a home character and warmth. This stone sets the tone for the whole kitchenette with warm taupes and tans mixed with warm grays. There is a slight overgrout but not too thick.
Center stage in our little kitchen area are the stars of the show! The Signature Hardware 30″ Oldham Fireclay Farmhouse Sink and the Signature Hardware Bellevue Bridge Kitchen Faucet were thoughtfully curated and chosen based on their bespoke design. The fluted design on the apronfront sink is so unique and charming. It's a beautiful sink made even more stunning paired with the bridge faucet. We really love how the brass faucet plays off the organic stone. With a small kitchen it's important to find ways to create drama so you get the same effect you get in a larger kitchen. This sink and faucet combo are eye-catching and bring so much to the space.
There was so much thought that went into the neutral accessory palette. Due to the stone being a bit busy we wanted the accessorizing to stay toned down. The X Cutting Board and Newfoundland Dog are visually interesting on their own while still blending tones with the stone.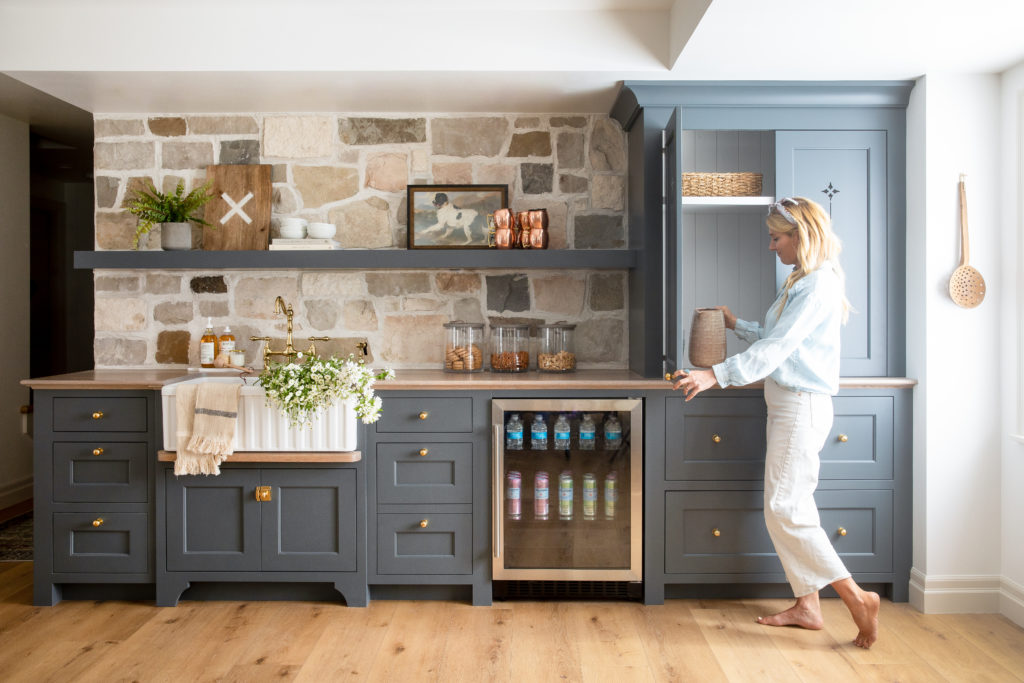 We did a built in pantry to give us extra storage. In our storage cabinet we hide a countertop ice-maker and plastic cups. The brig drawers are nice for extra storage as well. Our small basement doesn't have a lot of storage so we utilize every square inch of this kitchen.
When coming down the stairs into the basement you walk down into a blank wall. Kirsten wanted this wall to be something with a lot of visual interest since it's the first thing you see when you enter the basement. This little alcove functions as a sort of "entryway" would. There is a place to set your phone, light a candle, take off your shoes and take a seat if you need. The Susie Nightstand doubles as a storage piece and also a place to set things and decorate. The Krasons store all of their gifting and wrapping supplies here for easy access when you need to throw together a quick gift.
The Freeman Table Lamp from Hudson Valley is a great anchoring point for the eye on this white wall. The lamp has a great earthly texture to it that adds a lot of dimension to our decorating scheme. We brought in color with our Kendall Rug and some vintage art. We don't usually love an accent wall but it felt appropriate to add some subtle texture to this wall with the Metrie 5 1/4 " Option Modern Farmhouse Shiplap. This is such a welcoming spot to be greeted by when we come down to enjoy our basement.
SOURCES: Stone / Flooring / Shiplap- Metrie 5 1/4 " Option Modern Farmhouse Shiplap / Baseboards – Metrie MFP8234 Baseboard / Chest of Drawers – Susie Nightstand / Table Lamp – Freeman Table Lamp from Hudson Valley / Cane Wrapped Vase – Similar / Runner – Kendall Rug / Sink – Signature Hardware 30″ Oldham Fireclay Farmhouse Sink / Faucet – Signature Hardware Bellevue Bridge Kitchen Faucet / Cabinet Knobs – Emtek Globe Knob in unlaquered brass / Cabinet Latch – Emtek Cabinet Latch in unlaquered / X Cutting Board / Fern / Dog Art – Newfoundland Dog / Cabinet Paint Color – Farrow and Ball Downpipe / Dish Towels / Drink Fridge